2ND Annual Washington County Fair's Got Talent Contest
Saturday, September 18th at 3:00 p.m.
Outside on the Main Stage
SPONSORED BY: WHOLESALE VINYL & ALUMINUM, INC. OF ABINGDON, VA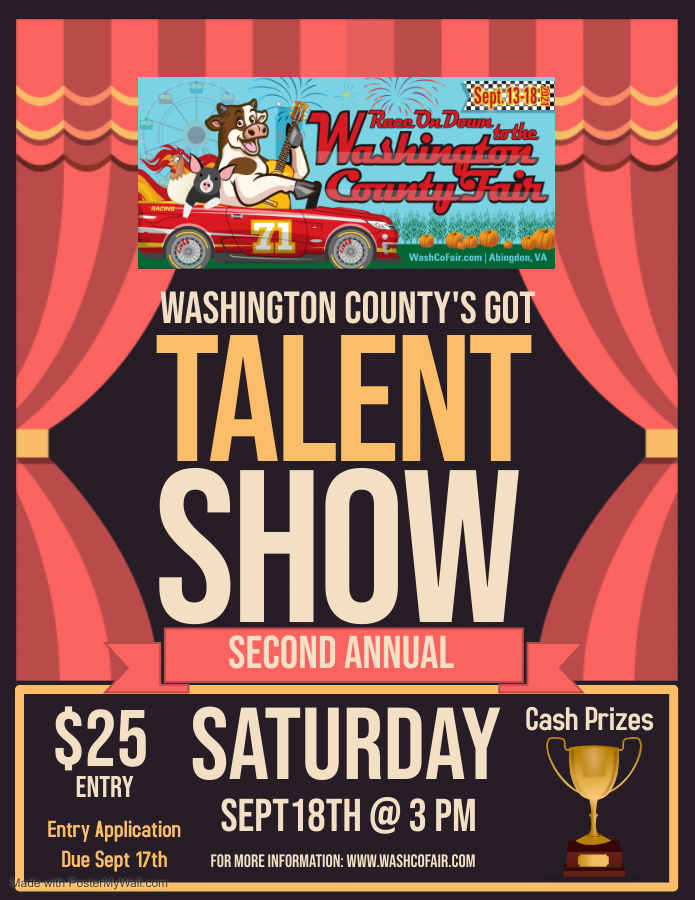 Rules and Regulations for Washington County's Got Talent
Age: Open to Ages 17 and Up as of date of contest
The contest is not open to professionals. Professional is defined as anyone who is a union member, has a professional manager, or whose principle supporting income is derived from Entries will be accepted in the following categories: Vocal Solo and Vocal Group.
No fire will be allowed on the stage during this competition. No dangerous or life-threatening acts allowed. 
IMPORTANT – Music for accompaniment must be of the highest quality. Background vocals or karaoke accompaniments will not be allowed on any sound tracks. Always bring back up CD.  Competition song can be sung acappella, by track or a single instrument (you provide.)  If you are not able to play a musical instrument you may have someone else play for you but they may not provide you with backup vocals.
All contestants will use only the lighting and sound system provided by the operator.
Keep acts to 4-5 minutes. Any act exceeding 5 minutes WILL BE DISQUALIFIED.
Registration will begin at 3:00 pm, first act will take stage at 3:30 pm.  Acts are first come first serve.           
CONTESTANTS WILL BE JUDGED ON THE FOLLOWING CATAGORIES: STAGE PRESENCE, SHOWMANSHIP, TECHNICAL ABILITY, AUDIENCE PARTICIPATION AND OVERALL PERFOMANCE.
THIS CONTEST IS NOT AFFILIATED WITH AMERICA'S GOT TALENT PRIZE MONEY:  
1ST PLACE PAYS $500.00
2ND PLACE PAYS $300.00
3RD PLACE PAYS $150.00
SPONSORED BY: WHOLESALE VINYL & ALUMINUM, INC. OF ABINGDON