Washington County Fair Volunteers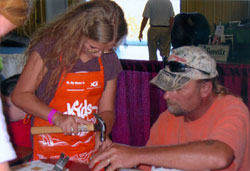 The Washington County Fair organizers are looking for volunteers to help make this year's fair a triumph.
Volunteers are vital to making the annual fair a success. In years past, about 50 people volunteer at the annual event that drew thousands to the Washington County Fairgrounds to celebrate our heritage and our future.
If you would like to volunteer at the 2021 Fair please Fill out the Volunteer Application Form from this link: Volunteer Application Form : PLEASE FILL OUT AND RETURN BY SEPTEMBER 3, 2022.. RETURN TO MEADE REALTY AT: meaderealty@naxs.com or jennifer@wholesalevinyl.net