The Washington County Fairground is a non-profit, non-stock organization with its officers, directors and committees serving on a voluntary, no paid basis.
Sixty-Eight years ago businessmen and farmers had an idea for an event that would celebrate agriculture's importance to the community. Thousands of Southwest Virginians attended the 1st Burley Tobacco Festival and Farm Show held in Abingdon October 18-20, 1950. Similar community fairs were held prior to 1949 in the Greendale, Bethel and Glade Spring areas. However, the Washington County Fair was the first county wide event and is the only event of this type presently being held.

The Early Years
The first festival consisted primarily of tobacco, poultry, dairy and beef cattle, sheep, hogs and other agricultural displays. The early festivals were three day events climaxing with a parade, football game and dance on Saturday night. The first festivals were held in warehouses. Funds were raised by pre-selling football game tickets and from dance proceeds. The 1951 Committee developed what is thought to be the first budget, which totaled $5,000. A catalogue of premiums, events and advertising space was also sold that year. The first admission was charged in 1958; $0.25 for adults and $0.15 for children. Admission charges increased in 1972 to $1.00 for adults and $0.50 for children.
In 1956 the fair incorporated and became "The Burley Tobacco Festival and Farm Show, Inc." governed by 19 appointed directors. In 1967 Miss America was the Parade Marshall and crowned Miss Washington County.
Since 1958 professional Grand Ole Opry stars have been employed for the festival. Many of these entertainers appearing at the festival have received CMA awards and became well known throughout the country. Garth Brooks performed at the Fair in 1990. Other well known stars include Jerry Clower, Grand Pa Jones, Chubby Checker, George Strait, Lee Roy VanDyke, Kathy Mattea, Martina McBride, Highway 101, Louise Mandrell, Little Jimmy Dickens, Bill Monroe, Stoneman Family and Crystal Gayle.
As the Fair grew, the directors began to dream and plan. Seventy acres of land was purchased in 1975 just west of Abingdon and financed by the owner to provide housing for the Annual Burley Tobacco Festival and Farm Show. The present fairground is an outgrowth of the Annual Tobacco Festival. The Board employed Virginia Tech to work on a long range plan for the Fairground in 1976. The Fairground Development Campaign Committee was formed in 1977 to raise $150,000 to construct a 45,000 sq. ft. exhibit building, develop roads and install utilities. One hundred thousand dollars was raised toward building and development of land. The operating name of the project was "Washington County Fair and Tobacco Festival."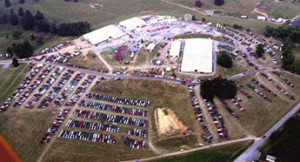 Each year brings more improvements to the fairground. In addition a new livestock building was constructed to house cattle, sheep and provide a place for livestock and sheep shows. Another building houses Old McDonald's Farm and a petting zoo for children. Due to the Fair being extended to operate a full week in 1988, a carnival was added to recreational activities. A horse show ring and tractor and horse pulling track have been added to the rear of the property. Major changes were implemented for the Fair's 50th year. A new 26,000 sq. ft. all purpose building, new roads, new entrance ways and fencing of the midway area were completed.
Year 2000, bathrooms were renovated in main building, a new office and restroom facility was built near the Events Building. Commercial, Educational, Youth and Adult exhibits continue to increase. Also livestock, goats, sheep shows are filled to capacity. Our heritage is to provide an agricultural and educational showplace and commercial opportunities for our community. Gate admission $7.00 Adults, $2.00 Children.
Several new events showcased at the 2001 Fair, Team Roping, Team Penning, School Day Tours, New Improvements included paving and lighting. The September 11 tragedy hampered our attendance, but we decided that we Americans would not be deterred by the terrorist. Due to the main building being too small, we held our first entertainment performance on an outside stage. Charlie Daniels was the performer. Crowd was overwhelming.
It was decided that 2002 Fair would showcase all entertainment on outside stage. Sawyer Brown, Percy Sledge, Ricky Shaggs were top performers. The Adult admission was increased to $10.00. Exhibits continue to increase. Construction was completed on the Washington County Agriculture Training Center, which consists of 2 buildings, show ring training facility (15,625 sq. ft.) and a 5,000 square foot meeting training facility. This added facility enhances our fairground. Gate receipts and attendance increased. Using the theme "Catch The Spirit" to stir the "spirit" of community, volunteerism and the "spirit" of America, Washington County Fair won First Place in State Competition at the annual meeting of the Virginia Association of Fairs, in Virginia. The Virginia Association of Fairs recognizes fairs in Virginia for their efforts to offer outstanding programs to their community and the communicate that to the public, Washington County placed first, second, and third in 11 of the 15 categories, which earned the Fair the first place Best Overall Communication Awards for 2002. Washington County Fair is truly recognition of the community.
The (2003) 54th Fair showcased over 2,800 Adult, Youth and Farm Crop Exhibits. The Fair again took top honors at the Virginia Association of Fairs Convention. Rhonda Vincent, Percy Sledge, Blake Shelton and the Oak Ridge Boys were top entertainers. On School Days the Fair hosted over 800 children.
The (2004) 55th Fair Theme "Building on Tradition" was showcased throughout the Fairground in exhibits and displays. Entertainers were Blue Country, Ricky Shaggs, Confederate Railroad, Eddie Money, Foghat and Trace Adkins. This was the first year we sold Reserve Seats for the entertainment section. Admission (Monday) Adults $8.00, Tuesday – Saturday Adults $10.00, Ages 6 – 12 $2.00.
"Stepping Out To The Fair" was the theme for 56th Fair 2005. Fair attendance continues to grow from the area and counties. Commercial, Educational Exhibits are very competitive.
"Piecing Together Family Fun" theme of 2006 Fair. Entertainment line up was Rhonda Vincent, Confederate Railroad, Ronnie McDowell, Sunset Drive, Percy Sledge and Billy Currington. Livestock Exhibits numbered 359, Adult Agricultural , Home Economics Exhibits numbered 3,036.
The 58th Washington County Fair Entertainment package included Rockie Lynne, Poverty Neck Hillbillies, Jimmy Fortune, Aaron Tippin, Black Hawk and Josh Gracin. On Friday Washington County Public Schools closed there doors early and let kids go to the fair free. This year's theme "Just To See You Smile" assured fair goers of many activities and attractions.
The 59th Washington County Fair show case "A Treasury Chest of the County's Best" Entertainers were James Otto, Kentucky Headhunters, Kellie Pickler, Trent Tomlinson, Percy Sledge and Sunset Drive and Bucky Covington. The total fair budget this year was $338,300.
The 60th (2009) Fair celebrated 60 years. On Monday night a Birthday Cake celebration was held. Senior Citizens Day was held on Tuesday with Bristol Senior Choir performing. 368 Livestock Exhibits plus 2,202 Competitive Exhibits in 4-H and adult. Entertainment for the week was Carter's Cord, Lonestar, Heidi Newfield, Keith Anderson and Jake Owen. Great Little Bear Show, Carnival, Petting Zoo provided daily entertainment. School Days attendance was up. Kenneth Reynolds, President, Joe Chase, Vice President, Alberta Copenhaver, Secretary and Irene Meade, Treasurer.
The 61st Fair theme was "A Snapshot of Fun" and was the highest in attendance to date. Providing the weekly entertainment was Trailer Choir, Jamey Johnson, Chris Young, Hotel California, 1964 – The Beatles Tribute and Luke Bryan. Reserve seats sold out. Livestock and Cattle shows continue to draw 4-H Youth. School Day talent show was a big hit. Fair continues to be a great county event. 2010 Irene & Charles Meade received "Fair Person Of Year" Award at State Convention. Kenneth Reynolds served as President.
The 62nd (2011) Fair theme was "Sew It, Grow It, Show It". The Fair featured Cory Smith, Mark Lowry, The McClymonts, LoCash Cowboys, Satisfaction – Tribute to Rolling Stones and Jason Michael Carroll. The Fair was awarded "BEST OVERALL FAIR IN VIRGINIA" at the State Convention in January.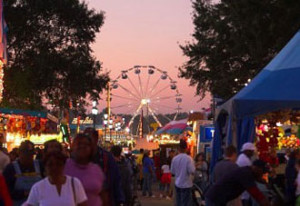 The 63rd (2012) Fir Theme "Its a Big Deal" kicked off the six day event of the Fair, Senior Day, School Tours, Horse Show, Commercial & Livestock exhibits, highlighted the event. Entertainment included Jon Pardi, Kip Moore, Josh Thompson, Sunny Sweeney, Percy Sledge, Jo Dee Messina.
The 64th (2013) Fair Theme was "Excite Your Senses", Fair goers enjoyed agricultural and educational exhibits, livestock shows, crafts, horse show, horse pulls, Old McDonald's Farm and good food. Featured entertainment was James Wesley, John Michael Montgomery, Greg Bates, Confederate Railroad, Maggie Rose and Chubby Checker. Our President Kenneth Reynolds received the "Fair Person Of The Year" Award at the State Convention. A new Exit Road was opened providing better traffic access from the Fairground.
The 65th (2014) Fair Theme was "Have You Herd". Entertainment plus Livestock Shows, Tractor Pull, Horse Pull, Demolition Derby, 4H Exhibits and Food Vendors encompasses the Fair. Entertainers were Austin Webb, Colt Ford, Danielle Bradberry, Chris Lane, Uncle Kracker, The Swan Brothers and Great Lakes Timber Show. School Day hosted over 800. Senior Day is also a big hit. Admission Adults $10.00, 6-12 – $2.00, Pre-School Free. Kenneth Reynolds served as President.
Washington County Fair celebrates 66 years "Bushels of Family Fun" was theme of 2015 Fair. Entertainers performing were Brothers Osborne, Craig Boyd, Shenandoah, Old Dominion, Francessa Battistelli, Jon Pardi, Senior Day, School Day, Horse Shows, Livestock Shows, Demolition Derby continue to be events at the Fair. Admission remains $10.00 Adults, 6 – 12 $2.00. Kenneth Reynolds served as President.
The 67th Fair (2016) theme was "Carnival Lights & Musical Night's. Entertainers performing Atlanta Rhythm, Canaan Smith, High Valley, Aaron Tippin, Tenth Avenue North, William Michael Morgan. Wild World of Animals performed daily. Admission increased $12.00 Adults, 6 -12 $2.00. School Day and Senior Day were great events. Kenneth Reynolds served as President.
Washington County Fair Celebrates 68 Years. The Theme for the 2017 Fair was "All Roads Lead to Washington County Fair". Ranch Rodeo and Team Roping were special Pre-Fair events. Fantastic Entertainment Line-Up to include Michael Tyler, Jo Dee Messina, Joe Diffie, Dylan Scott, Sidewalk Prophets, and the Georgia Satellites. Grounds act was Team Rock and Cole Shows were opened daily. Events include activities for everyone from Livestock Shows to Senior and School Day activities. This Fair is a great asset to our community. Washington County Fair was presented the award for the "Best Over All Fair, Attendance 30,000 and Over" at the Virginia Association of Fairs Inc. Convention. Ed Blevins served as President.
From a small beginning the Fair has grown to be a permanent and well recognized part of Washington County. Over 68 years of existence hundreds of volunteers have given their time and money to promote agriculture, rural living, agribusiness and support for Washington County through the Fair.