Washington County Fair Gate Admission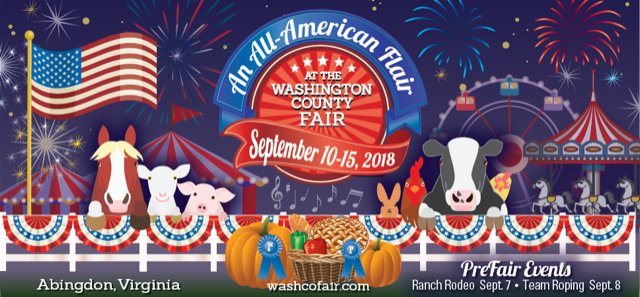 Regular Gate Admission
(DOES NOT INCLUDE RESERVED SEATS)
MONDAY – SATURDAY DAILY ADMISSIONS
September 10 – 15, 2018
$12.00 ADULTS



$2.00 CHILDREN (AGES 6 – 12)
PRE – SCHOOL FREE
Ticket Information
Discounted Tickets go on sale 10:00 am, June 19th at

www.itickets.com

or Meade Realty, Abingdon.
Single Day General Admission Tickets – Adult $10.00, Kids $2.00 Ages 6-12 until August 15, 2018. After August 15th Adult Tickets = $12.00 Each
Reserved Seats for Concert – $10.00.
Season Ticket Booklets $40.00 each, less than $7.00 a day until September 1, 2018
General Admission Tickets will be good for each night of the fair and will go on sale June 19th at 10:00 am for $10.00. A limited amount of reserved seats for each show will be available for an additional $10.00.
Season Tickets, Discounted General Admission Tickets and reserved seats for each concert throughout the week may be purchased at www.itickets.com or in person at Meade Realty, Abingdon, VA.
DOES NOT include Carnival Rides, Concession or Reserve Seats.
Free parking on grounds.
CLICK HERE FOR FORM TO ORDER BY MAIL OR FAX
MEADE REALTY
549 W. Main St. P. O. Box 806. Abingdon, VA 24212
1-888-828-3789
WASHINGTON COUNTY CHAMBER OF COMMERCE
179 East Main Street, Abingdon, VA 24210-2838
(276) 628-8141
Reserved Seats for 2018 Entertainment
MAXIMUM OF 6 TICKETS PER TRANSACTION
THERE WILL BE A MAXIMUM OF 500 RESERVED SEATS PER PERFORMANCE
COST = $10.00 PER TICKET PLUS A $2.00 PROCESSING
FEE FOR CREDIT CARDS AND MAIL OUTS PER TRANSACTION
THIS IS IN ADDITION TO THE REGULAR GATE ADMISSION
CLICK HERE TO DOWNLOAD ORDER FORM

SEND ORDER TO:
WASHINGTON COUNTY FAIR
P.O. BOX 711
ABINGDON, VA. 24212
PHONE: 276-628-6233 OR 276-628-6222