2023 Livestock Show Dates & Information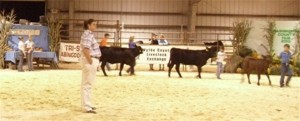 Monday, September 11th SPONSORED BY: WOODS PAINT
3:00 PM – 4-H & FFA Skillathon & Livestock Judging (F)
6:00 pm – 4-H Market
Hog Show. (E)
Directly following will be Open
Hog Show. (E)
Tuesday, September 12th SPONSORED BY: MEADE TRACTOR
6:00 PM – Appalachian Area Junior Small Animal Show (E)
6:00-8:00 PM – Sheep Dog Demonstration (F)
Wednesday, September 13th SPONSORED BY:

6:00 PM – Ag Olympics (F)
6:00 PM – Greased Pig Scramble (E)
Kids ages 2-12 try to catch greasy, little big. Competitors zip through the pen as the pig slips through their grasps. Ages 2-5 must grab the ribbon off the pigs back, whereas, 6-12 must bear hug the pig. Winner takes home a trophy.
Thursday, September 14th SPONSORED BY: MEADE TRACTOR

5:00 PM – 4-H Youth Poultry Show Registration (F)
6:00 PM – 4-H Youth Poultry Show (F)
6:00 PM – Appalachian Area Junior Cattle Show (E)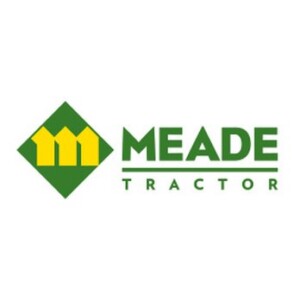 Friday, September 15th SPONSORED BY: FIRST BANK AND TRUST
4:00 PM – Open Cattle Show (F)
Saturday, September 16th SPONSORED BY: FARM CREDIT
11:00 Virginia Showmasters Circuit Jackpot Show (Lamb & Goats) (F)
12:00-8:00 PM Family Fun Day (E) – Sponsored by BurWil Construction Group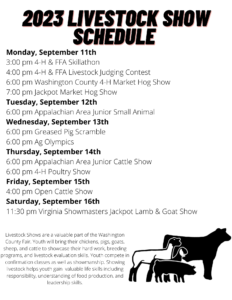 For more information:
Michelle Woods – (276) 780-3035 General Registration Information
Natalie Blevins- (276) 356-3553 Lamb and Goat Jackpot
Kate Belcher- (276) 356-6894 Cattle Jackpot
Email "washcofairlivestock@gmail.com" With questions concerning the livestock portion of the Fair.
Join "
Washington County Fair Livestock Shows
" on Facebook for the latest livestock information.
Washington Co. Fair Livestock Events Schedule (Virginia)