2021 Livestock Show Dates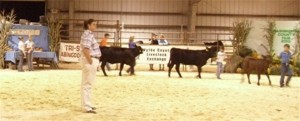 OPEN BREEDING SHEEP SHOW: WEDNESDAY, SEPTEMBER 12 AT 6:00P.M.
Click here for online registration for:
MARKET LAMB SHOW, JR. COMMERCIAL EWE SHOW & JR. MARKET GOAT SHOW:

SATURDAY SEPTEMBER 18

BEGINNING AT

12 NOON

– THERE IS NO ONLINE ENTRY FOR THESE SHOWS – ONLY PRINTABLE ENTRY FORM and SHOULD BE MAILED WITH ENTRY FORM (please note there is NO entry fee for Washington County Va. exhibitors)
PRINTABLE ENTRY FORMS:
Email "www.washingtoncofairlivestock@ymail.com" With questions concerning the livestock portion of the Fair.
Join "Washington County Fair Livestock Shows" on Facebook for the latest livestock information.
Washington Co. Fair Livestock Events Schedule (Virginia)
Monday, September 13th
6:00 pm 4-H Market Hog Show
Tuesday, September 14th
4:30 pm Livestock Judging Contest
6:00 pm Ag Olympics
Wednesday, September 15th
6:00 pm Open Goat Show (breeding/commercial), Open Breeding Sheep Show, Open Hair Sheep Show (will show in order)
Wednesday Registration
Thursday, September 16th
6:00 pm Dairy Night (Food Event)
6:00 pm 4-H Poultry Show
Friday, September 17th
4:00 pm Open Beef Cattle Show
Saturday, September 18th
8 am to 10 am Weighing and Entering junior market lambs, junior market goats, junior commercial ewe lambs
12 noon Junior Market Goat Show, Junior Market Lamb Show, Junior Commercial Ewe Lamb Show (will show in order)
8:00 pm Greased Pig Scramble-Event will start immediately following the sheep show but NOT BEFORE 8pm
Saturday Registration