2021 Entertainment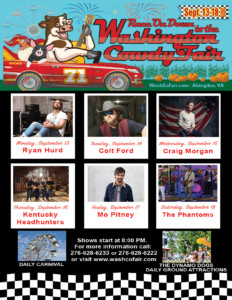 The Washington County Fair presents the 2021 entertainment line up for the 71st annual fair, fair. Bringing to the main stage artists from New Country, Bluegrass, and Traditional Country and local genres. This years theme is Race On Down To The Washington County Fair. The fair kicks off on Monday, September 13, 2021 and runs through Saturday, September 18 , 2021.
---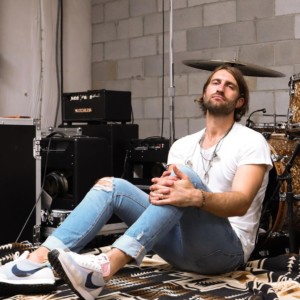 Monday, September 13th – Ryan Hurd brought to you by WXBQ 96.9. Arista Nashville singer/songwriter, Ryan Hurd continues his hit-producing path with the release of his latest single, "Every Other Memory," which has been dubbed one of the Best Songs of April 2020 (TIME) and follows his Gold-certified Top 20 hit, "To A T," a No. 1 on Sirius XM The Highway's Hot 30 Countdown. Ryan is married to Country artist, Maren Morris and they currently have "Chasing After You" out on Country Radio. https://www.ryanhurd.com/
---
Tuesday, September 14th – Colt Ford making a return visit to the Washington County Fair.
---
Wednesday, September 15th – Craig Morgan has many homes. As a man of faith, he has refuge in his Church. As a father and husband, he's at home with his family outside Nashville. And as an Army veteran, he has a respected role within the United States military. On his latest album, God, Family, Country, Craig pays tribute to all three of those pillars while returning to the record label with whom he scored his first Top 10 single. That song's title? "Almost Home." Craig is also known for "That's What I Love About Sunday," the smash party anthem "Redneck Yacht Club," and fellow fan favorites "International Harvester" and "Little Bit of Life." We are excited to welcome Craig Morgan to The Washington County Fair. Find more about Morgan at https://www.craigmorgan.com/welcome
---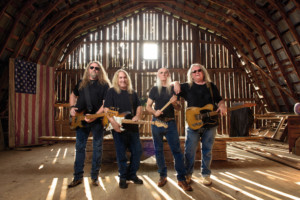 Thursday, September 16th – The Kentucky Headhunters, declared "the great American rock 'n' roll band" by Billboard magazine, began their professional journey in 1968 when brothers Fred and Richard Young and cousins Greg Martin and Anthony Kenney formed the Southern blues-rock band Itchy Brother. The band morphed into The Kentucky Headhunters in 1986. Their first album, 1989's Pickin' On Nashville, was released by Mercury Records and surprised the world, becoming a bona fide hit, selling over two million copies. The album won a Grammy Award, three Country Music Awards, an American Music Award and an Academy Of Country Music Award. It spawned four consecutive Top 40 Country hits. Currently, the band is made up of Richard Young, Fred Young, Greg Martin and Doug Phelps http://kentuckyheadhunters.com/
---
Friday, September 17th – Mo Pitney. When the time came for Mo Pitney to choose a title track for his new album, there was little doubt as to which song it should be. After years spent both honing his sound and growing his family, Pitney reached something of a turning point: He knew who he was as an artist and a person, and felt it was time to introduce himself in song. The title of new track "Ain't Lookin' Back" summed things up better than anything else could, and Pitney's long-awaited sophomore album was born. Ain't Looking Back follows Pitney's 2016 debut Behind This Guitar, an acclaimed LP that cracked Billboard's Top Ten Country Albums Chart the first week of this release. Find more about Mo at https://mopitney.com/
---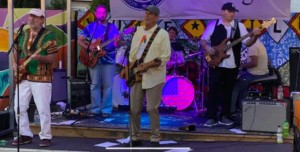 Saturday, September 18th – The Phantoms have been bringing dance, rock, pop, party, and feel-good music to the region since 1964. The Washington County Fair welcomes this regionally known group to the main stage to close out fair week. So, be sure to polish up your dance shoes and Race On Down To The Washington County Fair where you're guaranteed to move to the grove of The Phantoms. Find them at https://www.facebook.com/damascusrockers
---
The nightly grounds attraction: The Dynamo Dogs was started by Gail Mirabella when she and her high-flying Frisbee dogs were the featured dog act on "The Greatest Show on Earth," Ringling Brothers, Barnum And Bailey Circus, for four years. Gail has been training dogs since the age of 10 when she competed in her first kids dog show and after earning a B.S. degree in Animal Science in 1991 from Delaware Valley College she started actively competing in K9 disc competitions across the United States and has been performing Canine shows since 1997.
---
TICKET INFORMATION
Tickets go on sale 10:00 am, Tuesday, August 10, 2021, at https://www.itickets.com or Meade Realty, Abingdon.
Single Day General Admission Tickets –$10.00 Adults, Kids tickets $2.00 Ages 6-12 Free
Reserved Seats for Concert – $10.00 Add on Ticket
Season Ticket Booklets $45.00 until September 10th, 2021(To be picked up at Will Call)
General Admission Tickets are good for each night of the fair. Reserved Seats must be purchased separately. Season Tickets, General Admission Tickets, and reserved seats for each concert throughout the week may be purchased at https://www.itickets.com or in person at Meade Realty, Abingdon, VA. For more information visit www.washcofair.com or call 276-628-6222, 276-628-6233.
The Washington County Fair is a family friendly event in Abingdon, VA that has grown to be a permanent and well recognized part Washington County. For 71 years the fair has hosted a variety of events and fun activities, such as Music Concerts, Livestock Shows, Horse Shows, Demolition Derby, Miss Washington County Pageant, Truck Pull, School Days, Senior Day, Carnival Rides, Food, Commercial Exhibits, Educational Exhibits, Arts, Crafts, and Old McDonald's Petty Zoo plus other special events.