Washington County Fairground Inc. Parade
Saturday, September 15 at 10:00 a.m.
Main Street, Abingdon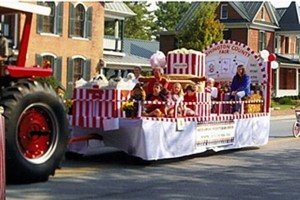 Washington County Fairground, Inc. will sponsor the 69th annual parade to be held on Saturday, September 15, at 10:00 a.m. on main Street in Abingdon, Virginia. The theme for this year's parade will be: "AN ALL AMERICAN FLAIR AT THE WASHINGTON COUNTY FAIR" All clubs, civic organizations and groups are invited to participate.
ENTRY FORM
Participation Entry Form
We ask that you complete our entry form to help us in organizing this year's parade.
ALL ENTRY FORMS MUST BE COMPLETED AND RETURNED BY SEPTEMBER 18, 2018, TO GAYLE LAWSON, PARADE CHAIRPERSON, 367 BAUGH LANE, APT. 5 , ABINGDON, VIRGNIA 24210.
ENTRY FORM
FLOATS: All Floats will assemble on Main Street between Tanner and Deadmore Streets. Further information and instructions may be obtained by calling Gayle Lawson (276) 623-9330.
The Parade will begin at 10:00 a.m. ALL FLOATS WILL BE JUDGED AT THE ASSEMBLY AREA PRIOR TO THE PARADE. Members of the Parade Committee will be on hand to assist participants in preparing for judging of floats. PRIZE MONEY FOR FLOATS LISTED BELOW.
It is important you be at the parade assembly area by 9:00 a.m.! Judging and line-up will be completed by 10:00 a.m. Parade will begin promptly at noon
Floats approaching Abingdon from the WEST should travel Valley Street to Hutton Street, then turn right on East Main Street to the Assembly Point. Floats approaching from the EAST should stay on Main Street to the assembly area. DO NOT ENTER MAIN STREET FROM TANNER STREET.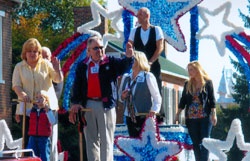 ALL ENTRIES MUST BE APPROVED BY THE PARADE COMMITTEE
Animals

– Animals, wagons, etc., will assemble on Deadmore Street and will be the last to enter the parade. Please keep all animals on the street and do not allow them on the sidewalk.

Antique Cars

— Assemble on the West side of Tanner Street, North of Main Street

Escort Cars

— Assemble on the East side of Tanner Street, North of Main Street

Other Entries

— Assemble on Main Street with Adult Floats

Marching Units

— Assemble on Parking Lot of Frost Funeral Home
There will be members of te Parade Committee on hand to assist you in the area that you will need to be, and we would be honored to have you and your group, float, etc., as a participant in this year's parade.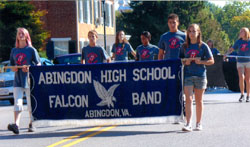 IMPORTANT NOTE: DO NOT THROW CANDY — if your group has candy, some one must walk the parade route and hand it out.